The Greater Toronto Area housing market continued its downward spiral in July – for the third consecutive month – as sales dropped a whopping 40.4 per cent, reveals the Toronto Real Estate Board.
That's a considerable chill, even for the typically cooler July market says Lauren Haw, Broker of Record at Zoocasa Realty.  "The typical month-over-month decline from June to July is 15 per cent, this year we saw a 30 per cent decline in the same period, indicating an increased velocity in the slowdown," she says.
The sale downturn effectively yanked on prices too – the average price for all combined home types was $746,218 last month- a 6 per-cent decline from June, though 5 per cent higher year over year. All home segments were impacted, from detached homes sales (with sales down 29.4 per cent month over month and prices down 5.25 per cent to an average of $1,000,336), to Toronto condos (sales dropped 22.3 per cent, and prices 3.46 per cent, to an average of $501,750), to Toronto townhouses (down 29.5 per cent, with sale down 1,84 per cent to $541,144).
However, those numbers look at the GTA in aggregate – some markets are certainly weathering the downward trend better than others. For those looking at renting vs buying, here is an INFOGRAPHIC from leading Canadian rental website RentSeeker.ca showing Canada's least and most expensive cities to rent an apartment.
To illustrate how various regions are faring, real estate resource Zoocasa has compiled the data into a heat map, indicating the differences in sales and price growth (or lack thereof) per region. Check it out below: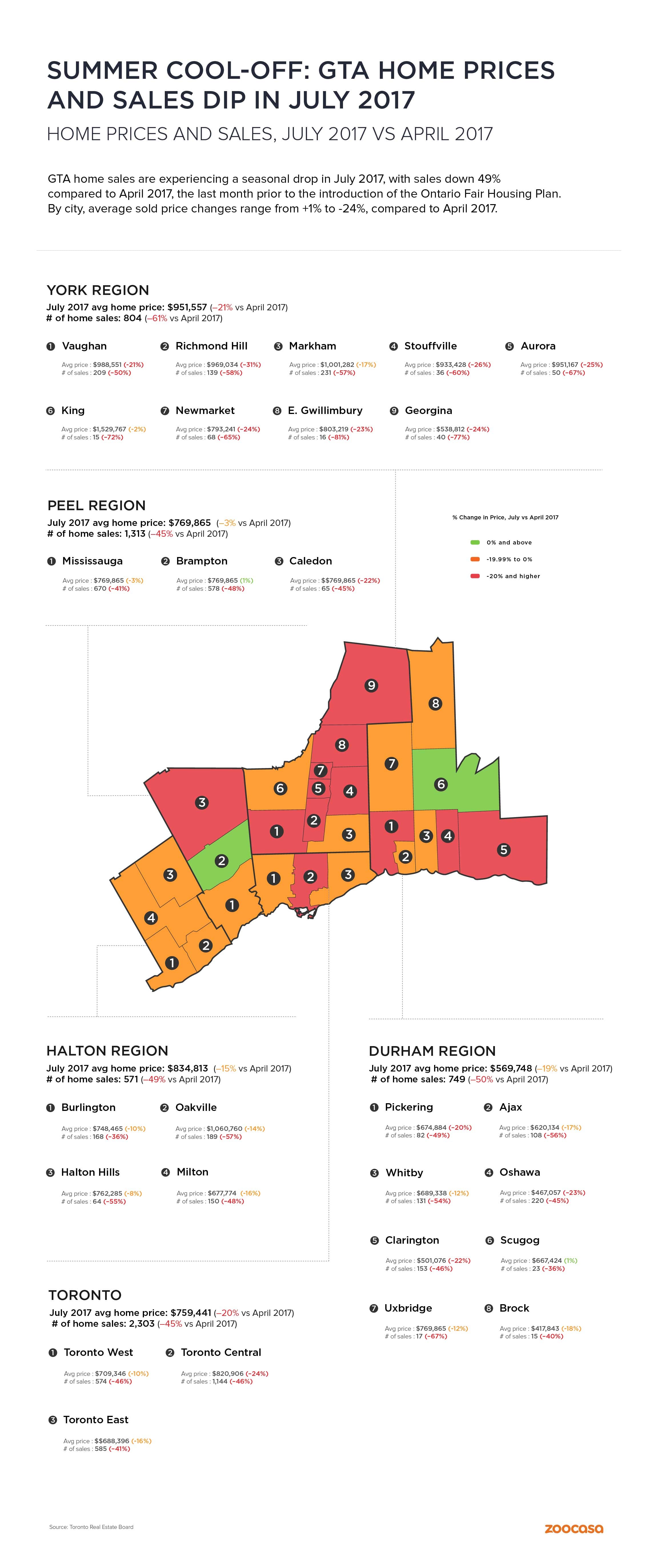 By: Penelope Graham, Zoocasa
Penelope Graham is the Managing Editor of Zoocasa.com, a leading real estate resource that uses full brokerage service and online tools to empower Canadians to buy or sell their home faster, easier, and more successfully.