Measuring The Impact of Covid-19 on the Rental Market
The economic and social effects of the pandemic have caused a seismic shift in the rental market. As Canadians across the country continue to deal with the challenges of Covid-19, many are wondering what the impact will be on prices and demand. RentSeeker is providing insights and predictions for what can be expected in the rental market moving forward along with apartment resources for renters during these challenging times.
Image Source – https://www.freepik.com/premium-photo/toronto-skyline-night_6605875.htm
Impact To Date
Covid-19 had a colossal impact on the rental market over the past year. In the most extreme cases, rental condo unit prices in downtown Toronto were down 20% year-over-year as of November 2020. Other sources have shown that overall, all types of rental listings are down in price 7.1% annually as of January 2021.
The following chart shows the average rent price and annual change for all types of rental properties over the past year. Between May and December of 2020, rental prices were 8% lower on average year-over-year.
Various apartment finders across Canada, for example, Canada's #1 Apartment Finder, RentSeeker.ca has a REAL-TIME Average Rent Costs Page (for both Renters & Landlords), so they can view what REAL-TIME Apartment Prices are, you can check out RentSeeker.ca's Average Rents Across Canada Page here:
https://www.RentSeeker.ca/average-rent-prices-canada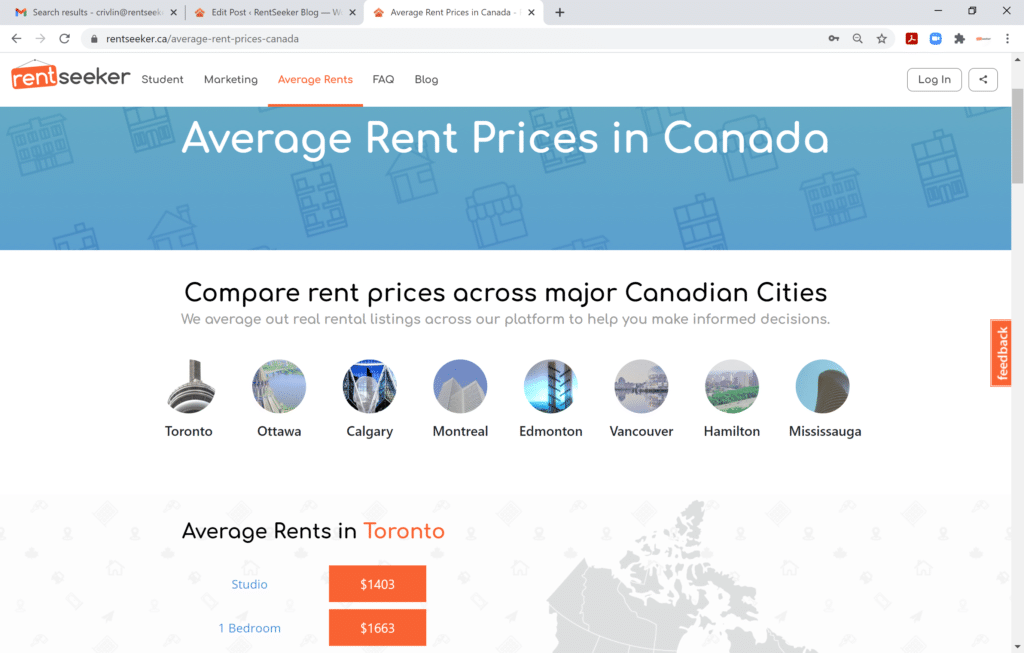 Average Rents for Apartments across Canada in Real-Time on RentSeeker.ca
Other rental websites, showing rental data; includes CMHC, 4rent, and other rental websites, including rentals, zumper and Zillow & more.
Last January was a long time ago. At the start of last year, the outlook for the rental market was very competitive as vacancy rates hit all-time lows. Renters faced bidding wars for the few units that were available, and prices were predicted to rise along with demand. This January, the outlook is very different with both metrics reversed. Prices are lower and so is demand, which could lead to a further reduction in prices over the next few years while vacancy rates continue to increase. Simply put, there are no indicators (despite the release of the vaccine) that this trend will stop anytime soon.
Renters and landlords are experiencing new challenges adapting to evolving regulations and market demand is rapidly changing. Families are migrating to the suburbs in search of space, and once highly sought after downtown condos are sitting vacant for months. It wasn't that long ago that a year lease would never include a month (or two) of free rent.
Source – https://www.rentseeker.ca/rent/apartment/ontario/toronto/5380/355-st-clair-avenue-west
Over the past few years, the Canadian rental real estate market has grown exponentially, with demand (and prices) for downtown units skyrocketing. After multiple years of new highs, 2021 will see new lows for many segments of the rental market. This is in staunch contrast to the real estate market as a whole which is expected to hit new highs in 2021.
The CREA just announced that national home sales set another all-time record in December 2020. The following chart visually shows how active the real estate market has been over the last year.
Source – https://creastats.crea.ca/en-CA/
Changes in Renter Demographics
Renter preferences changed overnight once Covid-19 hit. With prices reaching all-time highs over the past few years, many renters have been considering options outside of major cities. The exodus has officially started, and for the first time in many years, demand for rental condo units has declined significantly. A tidal wave of vacant units has swept over downtown cores and there are deals to be found in areas that previously had record low vacancy rates.
Renters Market
Renters are in the driver's seat for the first time in years. Toronto's vacancy rates for apartments built in the last 15 years (since 2005) hit 5.7% this month, the highest level for the city in the last 50 years.
The December Rentals.ca Rent Report showed that rental prices for all property types were down 9.1% annually in November 2020. Condos were the hardest hit property type with the average rent price falling just over 19%.
If you are thinking about moving, now is a great time to consider your options as landlords compete for quality renters. There are discounted apartments for rent in Toronto and there are deals to be found across the country. For more information, renters can also check out our guide to average rent prices in Canada to help gauge the current market.
Benefits To Those In the Market
Through the challenges of the pandemic, there have arisen opportunities for those who are currently in the market for a new rental property. Maria B, a 31-year-old IT worker who saw their job transition to a fully remote position has decided to upgrade from a basement unit to a condo. Between the savings from not commuting and reduced entertainment expenses, she decided that now is a great time to upgrade and invest more of her monthly income towards her home.
"I'm able to afford a rental unit in a very desirable area of the city now. I'm thinking long term, and getting a month of free rent". A year ago Maria would have had a lot of competition for units that are now reduced in cost.
Space in the Suburbs
Space is a very precious commodity right now. With lockdown regulations in place, your home is truly your palace. The desire for larger homes and backyard living space has driven families back to the suburbs. Real estate prices have exploded in areas outside the GTA and demand for rental units outside of the city is increasing as well. These factors have contributed to lower demand for city units and prices have dropped accordingly.
David C is a realtor in Barrie with an office in Toronto. "I've never seen demand like this for areas outside of the city" and continues to say "I expect to see this pattern continue as families, and remote workers, in particular, are realizing the benefits of more space and comfort outside of the city".
Remote Work
The shift to remote work has accelerated exponentially since the pandemic. Once considered a lifestyle trend, remote work is the new reality for many people and businesses. Office buildings are sitting empty and as more companies adopt remote work scenarios, continue to see demand in downtown city cores decrease across the country.
Those who are now working from home are reconsidering their living spaces. Small condos are no longer favourable options and demand for single-family homes and detached homes have driven bidding wars.
Closed Borders & Immigration
Immigration is an essential component of the Canadian economy and continues to be one of the most important factors affecting demand in the Canadian housing market. Global health concerns have brought immigration to a halt, severing the supply of renters that were once a vital contributor to the housing market. These changes have further contributed to the flood of available condo units on the market for sale and for rent.
No Tourism & The Increase in Available Rental Units
Most countries' borders are closed, meaning travel and tourism has ground to a halt and most likely will be banned for the foreseeable future along with travel restrictions. A lack of tourists has put a dent in the Canadian economy and employment rates. Tourism is a major part of the economy and accounted for 2% of Canada's GDP in 2019 and over 750 000 jobs. The lack of tourism has contributed to lower rental prices in several ways.
Airbnb units sat vacant for months on end, and eventually, many owners transitioned them into long term rental units. As a result, the market was flooded with units that previously were in the Airbnb system, contributing to lower prices and increased supply for renters. As the pandemic drags on, more short-term rental unit owners will be dealing with surmounting debt, contributing to the swelling supply of rental units and condo units for sale. The supply of Airbnb units hitting the market has had a dramatic impact on housing in Toronto, as reported by the CBC.
Secondly, there is a large number of people who have and will continue to struggle with employment that works in tourism or directly related industries. As a result of no tourism, there are fewer renters looking for places in popular entertainment areas and downtown cores.
Image Source – https://www.freepik.com/free-photo/low-angle-shot-buildings-harbourfront-toronto-canada_10292907.htm
Changes & Challenges for Landlords
To fully understand the changes going on in the rental market, it's important to analyze the perspective of landlords and property owners who are facing their own challenges.
Danny works for a property management company in Toronto's downtown core and stated that over the past half-year, in particular, the oversupply of rental units compounded with the lack of renters has created a market never seen before. "Before the pandemic there used to be 10 applicants for every property. Now there seem to be 10 properties for every renter".
To navigate the challenges of 2021 and beyond, property owners will have to face difficult choices. Many have opted to lower prices, and others have incentivized renters with one or two months of free rent.
Rent Freeze
It's important to highlight that many provincial governments imposed regulations to freeze rent increases in 2021 in an effort to help protect renters. Ontario introduced legislation to freeze rent prices in 2021 and other provinces have introduced similar legislation. We can expect that in the years following 2021, annual increases will be regulated in efforts to help both renters and property owners.
Freezes on Evictions
Freezes on evictions have left many properties in a state of limbo. To further compound many situations, legal processes have been slow or temporarily stopped due to the pandemic. Over the summer the Protecting Tenants and Strengthening Community Housing Act was introduced to help ease the situation. Essentially landlords are being encouraged to negotiate repayment agreements with their tenants instead of seeking evictions if rent payments cannot be paid due to COVID-19 implications.
Showings Are Not the Same
Nothing will motivate prospective renters like a good showing. With current lockdown regulations in place, landlords have to utilize new tactics to sell renters on their units and increase exposure. The transition to a digital real estate environment has accelerated in the age of the pandemic, and here at RentSeeker, we're helping landlords embrace the change.
RentSeekers offers industry-leading apartment and real estate marketing solutions for landlords who are experiencing challenges with vacant properties.
Unemployment
With many Canadians struggling with employment, finding quality applicants is very challenging and will be for months to come. Without full employment, it's complicated to complete a rental agreement and unfortunately, many Canadians are dealing with unemployment or reduced income. The following graph shows the employment percentage change for Canadians over the past year
Source – https://www150.statcan.gc.ca/n1/pub/71-607-x/71-607-x2020009-eng.htm
Moving Forward
There is no shortage of challenges moving forward for renters. Safety and health concerns will continue to lower demand for rental apartments in densely populated cities contributing to decreases in prices. Landlords will have to continue to offer favourable prices and incentives for renters.
Contributing to the vacancy rates is the number of new units hitting the market. Over the past few years, condo building construction has increased, with Toronto trailblazing a new path. Not only does Toronto have the most number of active cranes of any city in North America, but the figures are so high that it's estimated that 30% of all cranes in North America are currently in Toronto.
Despite the daunting challenges ahead, the real estate market is predicted to steadily increase throughout the year. The Canadian Real Estate Association predicts the average home prices to increase by 9.1% in 2021. Some predictions are calling for a record year ahead, complete with bidding wars and buyers taking advantage of record-low mortgage rates, according to RBC Senior Economist Robert Hogue in this report.
When a large tree falls in a forest it leaves behind a path of destruction. The force of a large tree falling will create a large hole in the canopy known as a tree fall gap. Within the wake of the damage arises the opportunity for smaller plants and trees to thrive in the short term until the canopy is once again filled overhead. Covid-19 has ripped a hole through the rental market, and in its wake, will be a future of lower prices and increased options for renters.
Get Social with The RentSeeker.ca Team on