If you've got a great job and you're looking to put down roots, buying a home is always a great investment, no matter if a bear or bull market rules the day. And lovely Kingston, Ontario is certainly an ideal place to settle down. Touted as the "smartest" city in Canada, with more PhD grads per capita than anywhere else in the country, it's also frequently cited as one of the best places to live by multiple polls. With Queen's University, the Royal Military College of Canada, and St. Lawrence College, you can understand its reputation for brainy citizens, but it's also a bustling hub of independent business, green and eco-friendly initiatives, numerous festivals and arts-related celebrations, a gorgeous freshwater sailing harbour, and beautiful parks and trails along the ever-majestic St. Lawrence River. While a small city of only about 125,000 residents, it packs the punch of a thriving metropolis and cultural centre, and is actually equidistant (and a short drive) away from Toronto, Ottawa, and Montreal if you need to make a business meeting, see an attraction, or meet up with your big-city friends.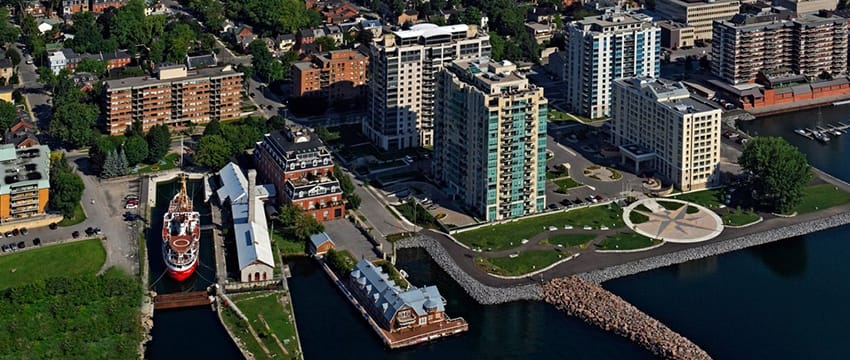 However, and sadly, for many of us owning a home in Kingston or another city of our dreams is a distant or completely unrealistic fantasy. We're either forced to wait until our financial or credit situation improves enough to make the necessary down payments, we settle with a place far from our ideal urban location, or we buy a more affordable home in the inner suburbs, squeezed out of the most attractive neighbourhoods that give a city character and charm (this is especially troubling in Toronto). Did you know that in conjunction with Blue Chip Mortgage, we recently completed an infographic that shows the necessary salary to buy a home in cities across Canada? The results may shock you.
In Kingston, the average price of a single-detached house in the fall of 2010 was $276,500. The average price of a home in the same season was $248,800. Assuming a 5–10 percent down payment for the home, a 5-year fixed mortgage rate of 5.59 percent, and a 25 year amortization, hopeful Kingston homebuyers are looking at a down payment of $12,440, an insurance fee of $7,682 (at 3.25 percent of the mortgage after the down payment), leading to mortgage payments of just over $1,500 per month. Even if the down payment and mortgage payments can be made, Kingston homeowners also have to pay well over $3,000 per year on property taxes — fees for fire, garbage, education, and other city services. Then there are upkeep concerns — plumbing, electrical, infrastructure, and so forth. It makes for a handsome bill each month.
While $1,500 per month for a small home — split between two people, if you're a couple — isn't too much different from renting a space in the city. But for many people, amassing a $12.5k down payment before buying makes little financial sense. Students in Ontario have an average debt of $28,000, which often takes many years to pay down. The average Canadian family is over $100,000 in debt. With these figures, having surplus savings for many Canadians — or surplus income that isn't immediately used to help pay off enormous debt loads, with huge interest rates — simply isn't in the cards. Taking a look at our infographic, London, Ontario is comparable to Kingston in terms of the cost of homes; therefore, according to our calculations, a homeowner would need a salary of at least $54,395 per year. And with our dwindling middle class and booming low-wage service industry, reaching this kind of salary is ever more of a rarity.
If you're not yet ready to commit to such prices, still paying off your debts, or still climbing the corporate ladder, but you still want to live in Kingston, then we're here to help you every step of the way by finding you a great place to rent! Even if you are in a position to buy, but you'd like to experience the city before committing to a particular neighbourhood, renting is an excellent way to live in the city for a short term without numerous obligations. Check out our extensive directory of apartments — you can narrow and customize your search to look for area, price, furnishings, parking, pet-friendly pads, and a whole lot more. Using our handy, social-media-integrated service will put you in direct contact with landlords and property owners looking to rent apartments in Kingston fast. Without a portal like ours, you're forced to wade through a confusing jumble of ads, troll the streets looking for 'For Rent' signs, or reliant upon word of mouth.
Kingston is truly a beautiful, clean, safe, and happening place to live. But like all Canadian cities, it's going to cost you if you want to own property. Get on your feet and stay where you love to live by renting a cool yet inexpensive apartment, and start planning for that future home — whenever the day might come.