Imagine strolling along a picturesque boardwalk while the sun sets over Lake Ontario, Toronto's signature skyline glittering on the horizon. You've just had a fabulous dinner from local bistro near your favourite park, and now you've picked up an ice cream treat from a local parlour and you're enjoying the sites of a serene marina, a busker strumming a nostalgic tune nearby.
These are the nightly sights and sounds you can experience by living in Port Credit, Mississauga — one of the prettiest, quaintest, and most desirable neighbourhoods in the entire city!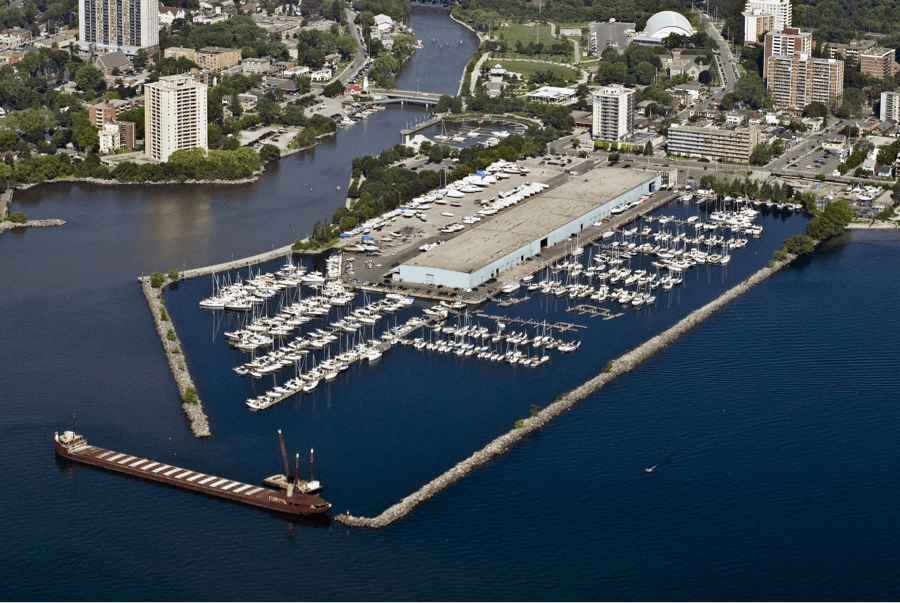 Mississauga itself has some tremendous perks for would-be residents. If you work in Toronto, Burlington, Hamilton, or elsewhere, it's no sweat heading in: GO Stations (including one right in the heart of Port Credit!), connections to the QEW highway, and multiple MiWay transit lines make the city a commuter's dream. But living in Mississauga also means lower rent and costs of living than the capital, meaning you'll save money even with those frequent forays. And Pearson Airport is only a short drive away, giving easy access to flights for extremely mobile professionals.
As for work and education, MoneySense magazine rated Mississauga as the 11th best city in the country. With many Fortune 500 companies in the banking, pharmaceutical, and finance industries calling it home, it's a great place to find careers at all levels. You've got 15 universities within an hour's drive, and both Sheridan College and the University of Toronto have Mississauga-based campuses. The city is also home to numerous newcomer families from diverse backgrounds: approximately half the residents speak English as a second (or third, or fourth!) language — meaning there's probably a cultural heartbeat for you, regardless of where you come from.
In particular, you're going to want to live in the "Village on the Lake" and start looking for great apartments for rent in Mississauga with our useful directory. Situated at the mouth of the Port Credit River, the Port Credit community boasts a good share of Mississauga's 480 parks and woodland areas, including JJ Plaus Park, Memorial Park, St. Lawrence Park, Tall Oaks Park, J.C. Saddington Park, and the very fun Jack Darling Memorial Park, where you can catch some rays near the beach, let your dog run wild, share a picnic, or explore the trails. If you're a golfer, you'll also want to check out the Mississauga Golf and Country Club, which is a recognizable strip of green across the neighbourhood.
If you can take or leave parks, then maybe you'd rather enjoy out all the amazing shops, boutiques, restaurants, diners, and quaint cafes near the water and marina near Lakeshore Road East, which cuts right through the community (and if you need to do any other shopping, you're still very close to Square One, of one Canada's largest shopping centres). Port Credit residents love living so close to the water, feeling those gentle summer breezes blow in off the lake while they check out the Port Credit In-Water Boat Show, the annual Waterfront Festival, Busker Fest, Southside Shuffle Blues Festival, Paint the Town Red, and more. Summer's such an amazing season in Port Credit — the boardwalk is great for cycling, strolling, and rollerblading, and even better if you want to get into boating yourself!
Right now there are a number of great high-rise apartment listings in the Port Credit community available for you to peruse in our database. Live high in the sky and watch the sun rise and set each night over the lake with an amazing view of Toronto! Let us help you join the old-fashioned, 'village-within-a-city' vibes of Port Credit, and start enjoying the good life.