With Canada's real estate market showing signs of stabilization in various cities, possibly and likely due to policy measures on housing by the Canadian government over the last few years, other cities like major cities; Vancouver and Toronto are still showing signs of increasing home prices for houses, condos and apartment rentals.
With so much internal discussion over the last decade or so by economists, investors, and policy makers about Canada's real estate market in internal debate, Canada has also been making many global lists of most expensive cities to live, with real estate prices rising and reaching unprecedented levels.
According to Business Insider, Vancouver ranked #3 on the most expensive cities to live in, around the world, with the following caption showing how real estate prices are impacting the economy, both locally and globally.
Vancouver, British Columbia: House prices in Vancouver rose the equivalent of a full year's household income in only a year; it had a median multiple of 11.8.
In a recent article published on Huffington Post, RentSeeker.ca presented multiple factors that could impact the Canadian housing and rental markets in 2017, to try and provide some clarity and insight into various possibilities that can impact the real estate market for the coming months and year.
To provide an overall snapshot of Canada's rental market, leading Canadian real estate search website, RentSeeker.ca, published a New INFOGRAPHIC showing the Top 10 Most and Least Expensive Cities to Rent Apartments across Canada.
As expected Vancouver and Toronto are listed in the Top 10 Most Expensive Cities to Rent in RentSeeker.ca's New INFOGRAPHIC with average rent costs for a 1 bedroom apartment in Vancouver showing at $1,159 (while the real-time asking price for many newer rental properties in Vancouver is probably closer to $1,700 to $2,300 according to data from RentSeeker.ca). Average rents for 1 bedroom apartments for rent in Toronto came in at $1,132 (while once again, the real-time asking price for newer apartment rentals on the market are closer to $1,300 to $1,400).
At the top of the list of the Top 10 Least Expensive Cities to Rent was Shawinigan in Quebec with average rents for a 1 bedroom apartment according to Canada Mortage and Housing Corporation coming in at $381.
View the full INFOGRAPHIC from RentSeeker.ca here:
(for media inquiries, or to share our INFOGRAPHIC, please e-mail us at [email protected])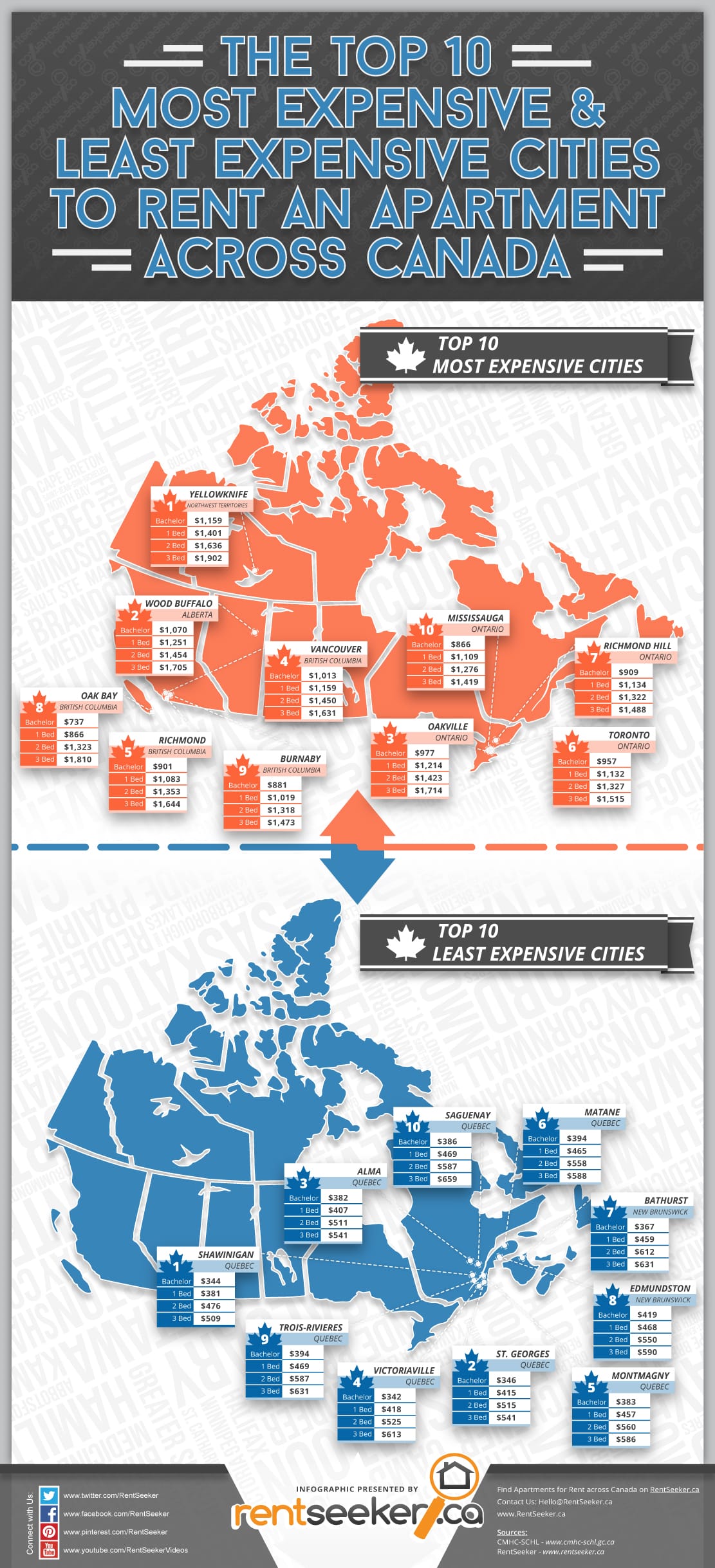 *Data from this INFOGRAPHIC, and the above article, showing average and real-time rent prices in cities across Canada is based on data from Canada Housing and Mortgage Corporation (CMHC), and apartment finder RentSeeker.ca.
Join the conversation by following RentSeeker.ca on Twitter and RentSeeker.ca on Facebook!