Now that the holiday season is in full-swing, it's time to talk parties. Apartment dwellers may feel that they cannot be the host of a holiday shindig due to lack of space, but that does not have to be the case.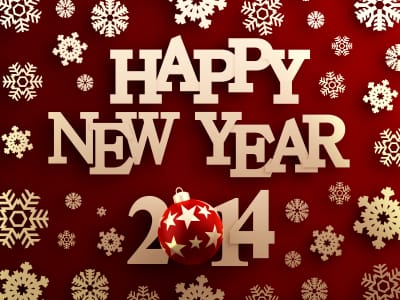 With some creative planning and by following some basic rules, you can throw a great get-together for Christmas or New Year's Eve that will impress your guests and keep your neighbours happy. So what are you waiting for? It's time to get planning!
Apartment Etiquette
First and foremost, if you're throwing a party in your apartment you need to practice good neighbour etiquette. This means letting your neighbours know in advance that you'll be having people over – this includes those who live beside, below and above you. Better yet, give them an invite to the festivities.
By giving your neighbours notice, they can make alternative plans to avoid being home when the party will be at its fever pitch. Let them know when they can expect to hear noise from your apartment and when it will end. Keep in mind noise bylaws – 11 pm is generally when noise is expected to be turned down.
You can also offer treats to thank your neighbours when the party is over. A little apartment etiquette goes a long way to keeping your living environment harmonious.
Create Space
Now it's time to make room for your guests to mingle and relax. Depending on the size and layout of your apartment, you may need to get creative.
Move furniture right back to the wall or remove some pieces altogether by temporarily relocating unnecessary items to your bedroom. Having less seating than you do guests helps to invite conversation, so don't be afraid to remove chairs that make the main party area too small.
Having a sit-down meal may not be realistic depending on your guest list, so opt for one table that will be home to appetizers, a punch bowl and snacks. Clear away any clutter that has collected on side tables and cabinets to give your guests room to set down their glasses and plates.
Theme and Decor
Next, you'll want to determine a theme for your party. Do you want to throw an "ugly sweater" event? What about a Mad Men-style cocktail soiree? Depending on your vision, there are a number of options to achieve your ultimate party look.
If a Christmas tree is part of your plans, consider the size and the number of people you want to have over before you take the plunge and purchase a tree. Sometimes a tastefully done tabletop tree is all you need to give your party a festive vibe.
Eat, Drink and Be Merry
Finally, it's time to plan your menu. Invite your guests to bring their favourite holiday dish by hosting a potluck dinner, tempt their taste buds with great, pre-made (or handmade by you, if you wish!) hors d'oeuvres, or go all out with a catered affair.
Create a signature cocktail for your party that fits with your theme and be sure to offer a non-alcoholic version. Have plenty of soda, juice and water on hand to offer options to those who wish to not drink.
A sparkling soda with a garnish will feel just as festive as a drink that contains alcohol. As always, it's important to be a responsible host and ensure your guests don't consume too much alcohol – and that everyone has a safe way home!
Daily Candy offers some more great tips for hosting the holiday party of your dreams in their article "Small Apartment Party Tips".
Welcome Wagon
Many buildings have rules against putting stuff in the hallway, but for one night you probably won't get fined. A doormat not only encourages guests to wipe their feet but also identifies your home as the place to be. Consider hanging a wreath or other festive decoration on your door to further fest up the place.
Hang It Up
Baby, it's cold outside and every single one of your guests has a coat to store. A foldable rolling rack provides the storage you need. And bags can be placed on the top shelf. Small space studio bonus: Position the rack in front of your bed to create a barrier to the private area. Store under your bed when not in use.
Go for the Green
Just because you don't have room for a tree doesn't mean you should eschew the feeling of the season. Consider hanging a wreath on a window. Or pick up some of those boughs on sale at the Christmas tree sidewalk outposts and place them on your coffee table with ribbon or small votive candles. Pick up a bunch of roses for $10 at your local store, cut them super short, and put in juice glasses or repurposed candle jars.
Create a Reveal
I'm a big fan of unveiling a hot dish mid-party. It reinvigorates interest in the food and is a welcome way to circulate among guests. The trick with this tip is to prep and place the dish in the oven pre-party (think baked Brie).
Clean as You Go
Nothing makes a hangover worse than dealing with last night's remnants. Make occasional sweeps of the area for errant food, plates, and drinks. Edit platters when supplies get low. If you let your guests know where the trash and recycling bins are when you first welcome them, you'll avoid too much of a mess.
Buffet Is Best
Even if you are hosting a more formal sit-down dinner, it's best to buffet it — you'll have more table space for proper place settings and festive decor. Display food on your kitchen countertop or a credenza topped with a festive tablecloth (it'll be easier to clean up serving spills post-party).
Enhance Your Space
Chances are your table is more of a cafe setup than a formal dining size. Increase surface space with a piece of plywood. Balance over your table and secure with barstools at the ends. Dress with a tablecloth and set for six to eight guests — the perfect number for flowing conversation. Store the wood under your mattress when not in use.
Happy Holidays & Best Wishes to All our Clients & Fans for a Happy, Healthy New Year!!
The RentSeeker.ca Team