It was an unseasonably hot month for real estate across Canada in November, reveals the latest data from the Canadian Real Estate Association – but that robust activity isn't expected to carry over into the new year as new mortgage rules take hold.
According to CREA, the national number of sales rose 3.9 per cent month over month, and 2.6 per cent from November 2016 – the fourth month in a row to see gains, but the first time since March that activity has been stronger than last year's levels.
This is mainly due to the downturn witnessed in the Toronto real estate market and throughout the Greater Golden Horseshoe following the implementation of the Ontario Fair Housing Plan in April. However, it was a slight recovery in these markets that has fueled national November growth, with an increase of 16 per cent in Greater Toronto accounting for two thirds of all sales.
The MLS Home Price Index rose 9.3 per cent from 2016, while the average sale price increased 2.9 per cent to $504,000. Excluding Toronto and Vancouver would strip out over $120,000, to $381,000.
Stronger Sales Will Be Temporary
However, Canadians shouldn't get used to this uptick in sales activity, as much of it may be due to buyers rushing into the market to get ahead of the Guideline B-20 rules that will take effect on January 1st. Experts say these rules, which will stress test all new mortgage applicants, will reduce affordability for the average buyer by 20 per cent.
CREA President Andrew Peck believes this has led to temporary buyer urgency during what is usually a seasonally slower time for real estate, as buyers snap up Toronto townhouses, condos and detached homes before seeing their affordability slashed.
"Some home buyers with more than twenty per cent down payment may be fast-tracking their purchase decision in order to beat the tougher mortgage qualifications test coming into effect next year," stated CREA President Andrew Peck. "Evidence of this is mixed and depends on the housing market. It will be interesting to see whether December sales show further signs of home purchases being fast-tracked."
Stated Chief Economist Gregory Klump, "National sales momentum remains positive heading toward year-end. It remains to be seen whether stronger momentum now will mean weaker activity early next year once new mortgage regulations take effect beginning on New Year's Day."
INFOGRAPHIC: Toronto and Vancouver Lead Pre-B20 Rush
This buyer anxiety appears to be concentrated in Canada's largest markets – in an INFOGRAPHIC compiled by Zoocasa, it's clear other major centres are experiencing steady activity throughout the autumn season, compared to strong upticks in the Toronto and Vancouver markets.
[INFOGRAPHIC]  from Zoocasa.com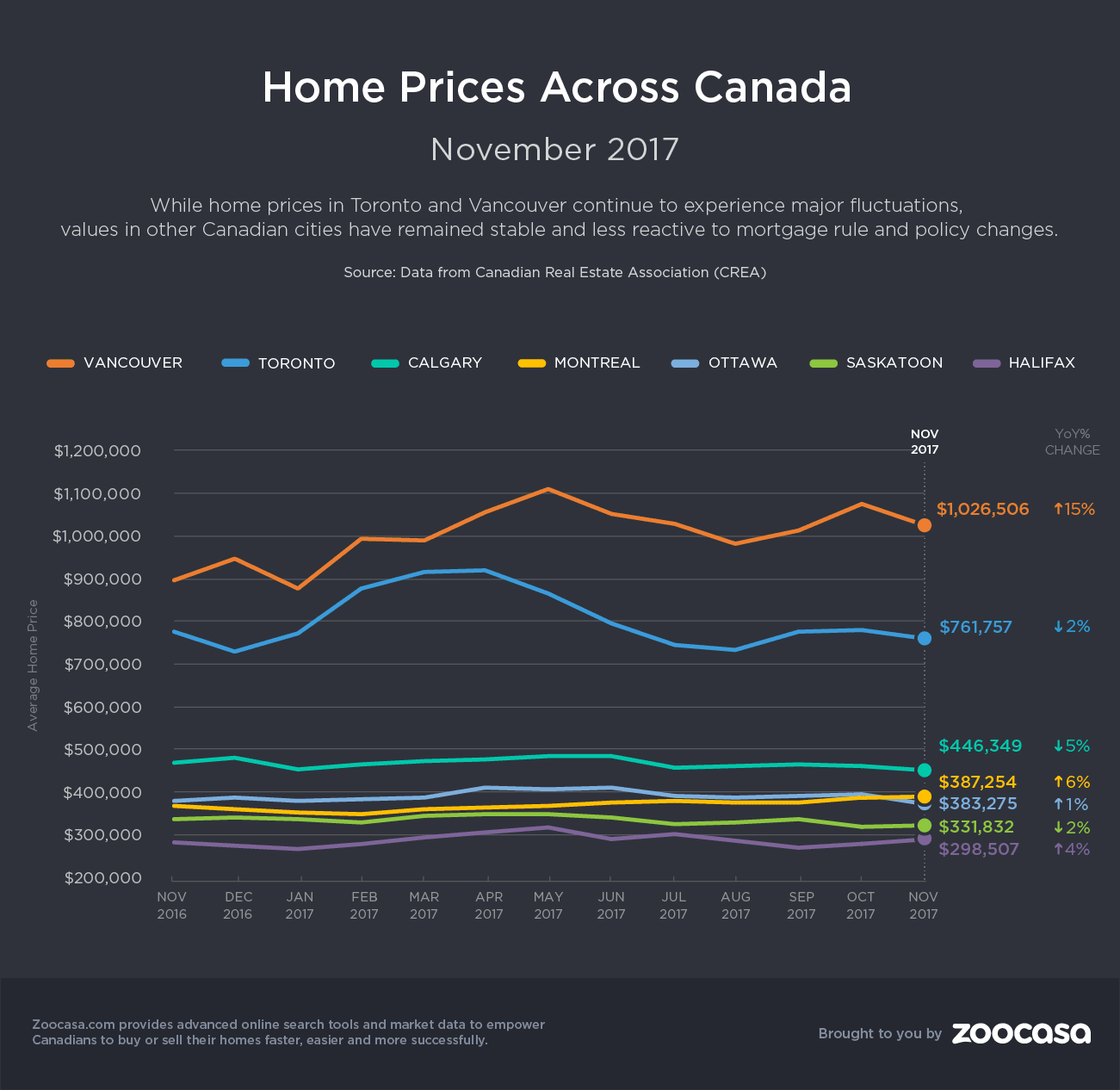 By: Penelope Graham, Zoocasa
Penelope Graham is the Managing Editor of Zoocasa.com, a leading real estate resource that uses full brokerage service and online tools to empower Canadians to buy or sell their home faster, easier, and more successfully.